MMDS transmission, STRC, Libya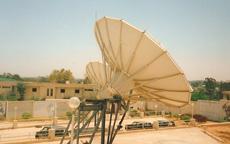 In the mid nineties Libirel personnel installed three wireless cable transmission stations in Tripoli. Benghazi and Sirt. The 20 channel systems were equipped with Tandberg encryption and Omni directional transmission to customers in the three transmission sites. The systems were delivered as a complete fit out including all technical furniture, equipment supply and installation. power installation including back up generator and transmission surveying. testing and installation.
In recent years the stations have been upgraded with additional equipment and channels. The quality of installation has stood the test of time in a physical environment that is not kind to broadcasting equipment. By not reducing quality in the choice of equipment. the client. STRC. has ensured a long period of trouble free operation.