Entertainments Venue, Scholars Dublin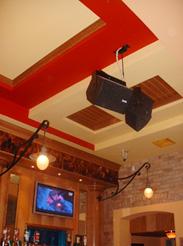 Libirel Communications, with McCann Systems of New York, and ADC of London, installed this venue in late 2003.  The ground floor was fitted out with a complete Tannoy sound system.  The sound reproduction is to the highest quality.  Nick Whitaker, London Acoustician, oversaw the final adjustment to this fabulous sounding venue.  Video and television is delivered over many plasma screens and the complete system comes under Crestron remote control.
Locally generated graphic images can be sent to one or all displays.  Choice of viewing is selectable in all areas,  allowing customer selection as need requires.  The upstairs venue is fitted out to a similar standard with the AV system matching an impressive fit out of  Tannoy sound.  Both areas have their own DJ booths, where control is handed over to those at the turntable.