Video conferencing, Alliance Bernstein, London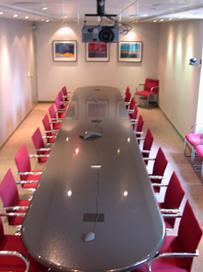 In association with their London partners. ADC 8. Co., Libirel completed a prestigious fit out for Alliance Bernstein in their new headquarters at Berkeley St. London. The offices. spread out on four floors, have access to a central equipment room that can allocate video conferencing facilities to dedicated conference suites. The design has more in common with broadcast methodology, and was suited to the size of the installation. The suites are fully fitted for video, audio and data communication.
Many of the suites n be combined with adjacent rooms to increase conference capacity and capability. LCD projection. flat screen displays and intelligent whiteboards are used in conjunction with videoconferencing equipment to display local and distant video. The audio quality is maintained with high quality application. and speaker systems and dedicated audio processors- All suites are under touch panel control, and can be controlled and accessed from any remote site.