Network Monitoring Centre – RTE Dublin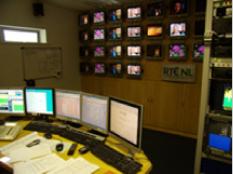 RTE Networks (Television and Radio) monitor reception of their transmitted signals by picking up off air signals and presenting them for monitoring and analysis.  The receive signals are taken off air from some of RTE's transmission sites and monitored locally to support quality of delivery to the customers.
Libirel Communications completed the system fit out, which included the creation of a small cable headend and a control room environment.  The headend placed under the main receiving tower delivers the combined signal to the Monitoring Room which is 250m away.  All received signals are split out onto individual flat screen monitors as well as being presented to main monitoring for near field audio and video analysis.